BETWEEN HILLS, CITIES OF ART AND BEACHES
A STRATEGIC POSITION: NATURE, EVENTS, EXCELLENT FOOD
Staying, even for a few days, in Podere di Farinello, will be an unforgettable experience. Open the windows in the morning and embrace the gentle hills of Lucca with your eyes, with their order made of rows of vines and an endless expanse of olive trees, which change color every hour of the day: one moment  they shine like silver and another one they are of an intense and blinding green.
Enjoy the silence of the countryside, interrupted only by the songs of the birds or by the call of a domestic rooster that convinces you to start the day. Relaxation and tranquility that you can find with endless walks on old paths or simply lying on the grass in the shade of an ancient tree looking at the clouds in its foliage.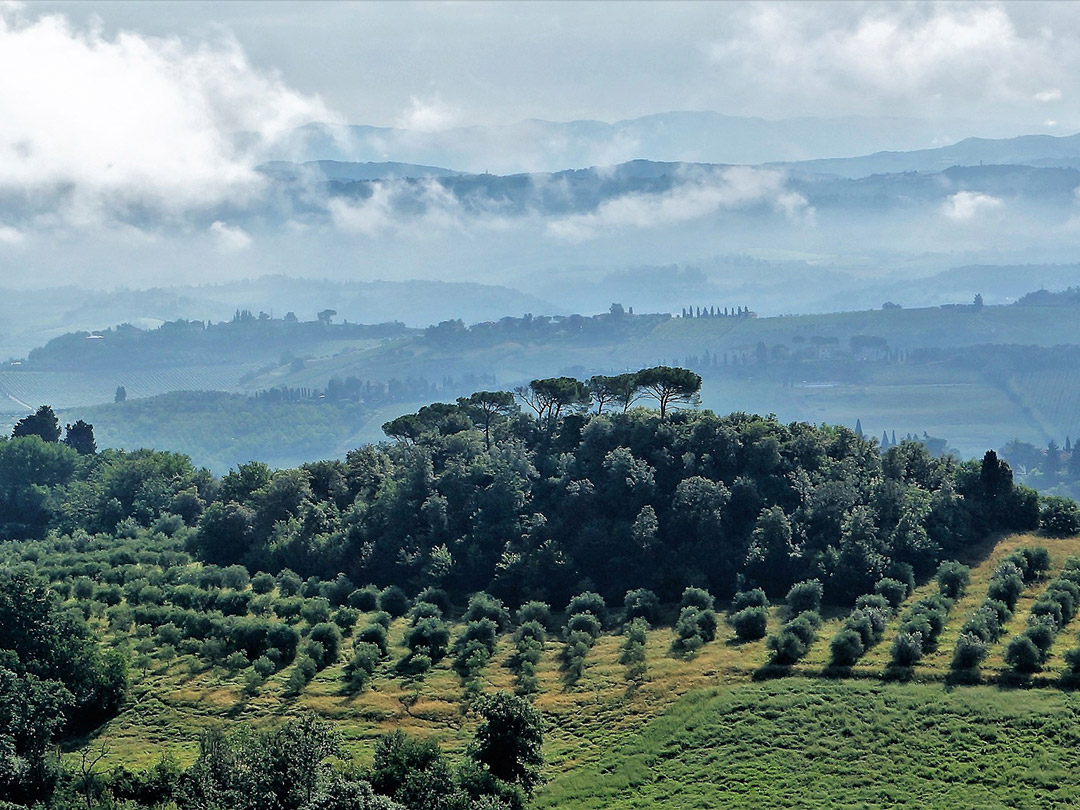 And then immerse yourself in the history of this ancient part of the "Lucchesia", full of churches, small Romanesque parishes, breathtaking views, by car or simply on foot or perhaps by mountain bike.
You can visit ancient farms or simple farmhouses, following what is called the wine route, enjoying and appreciating the natural hospitality of our people in addition to typical products.
Deepening your stay by entering history, with an accurate visit to the city of Lucca, will fill you with joy and interest.
The ancient city with its famous and unique walls that enclose and protect it for centuries is so close that it is worth visiting it over and over again, and each time discovering a secret corner, a special side. You can stroll through its characteristic streets, the same ones traveled by the ancient Romans, as Maestro Giacomo Puccini often did and hear his works resound within a church: visiting his birthplace will be a unique event.
Or find yourself participating in events such as Lucca Comics, Murabilia, il Summer Festival, la Mostra delle Camelie, the events of Settembre Lucchese, simply by joining the Lucchesi who will welcome you wholehearted. You will be able to appreciate our food in many quality restaurants that will show you the best of our culinary tradition with dishes with unique flavors.
LUCCA: YOU WILL NOT FEEL AT ANY TIME AS A FOREIGNER, BUT YOU WILL FEEL IMMEDIATELY PART OF THIS CITY,

TO UNDERSTAND THAT ONCE YOU LEAVE, YOU WILL COME BACK WITH YOUR HEART
AND MIND TO THIS UNIQUE PLACE.

If you want to change the scenery, Versilia's sea is 25 minutes away by car and the equipped and unique beaches, will offer you any kind of comfort and the possibility of a luxury shopping in Viareggio and Forte dei Marmi. If you love wild beaches and uncontaminated places where the Mediterranean greenery is still like a hundred years ago, the Park of Migliarino and San Rossore is the place for you. A different route will take you to nearby Garfagnana, with the Apuan Alps and an uncontaminated mountain area with the Orechiella Park with its mountains, a little similar to the Dolomites, where you can discover the ancient traditions of proud people.
PODERE FARINELLO
YOUR HOME

In the evening you will return to Podere Farinello, "your home", where you can recover with a relaxing swim in the swimming pool and end the evening with a cheerful and healthy barbecue, watering the meat with our wine and tasting our famous extra virgin olive oil.
You will be our guests, but more than customers, you will be our friends.